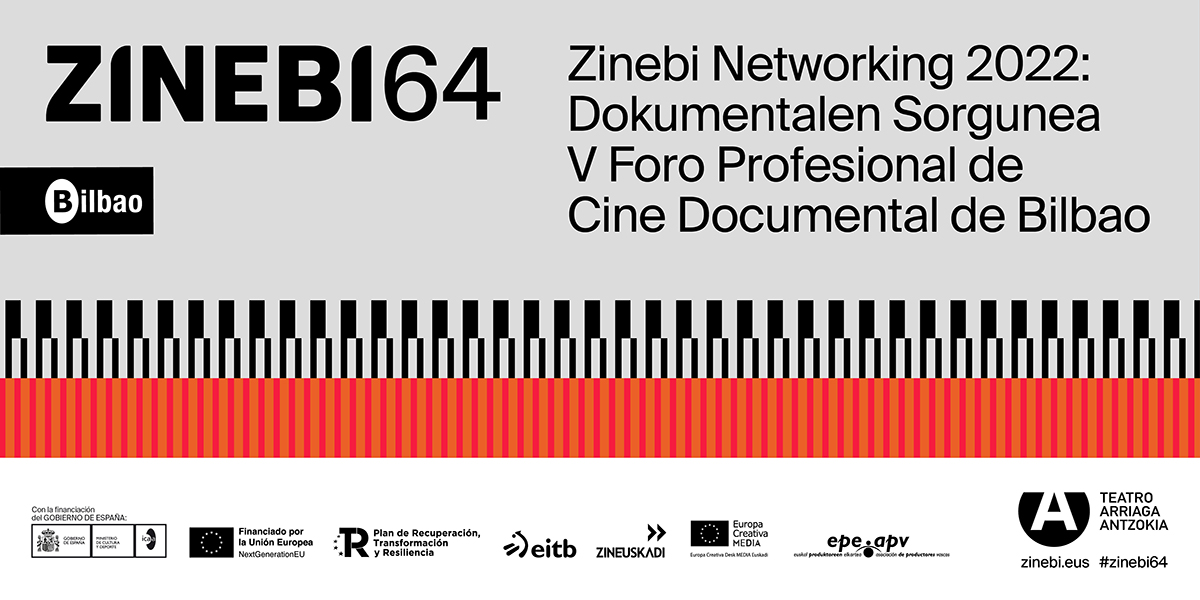 ZINEBI – International Festival of Documentary and Short Film of Bilbao presents ZINEBI Networking: Dokumentalen sorgunea 2022, a forum to promote audiovisual production in the documentary sector. This, the fifth Bilbao Professional Documentary Film Forum, was organised by Bilbao Town Hall and the Association of Basque Producers (EPE-APV); it is funded by the Institute of Cinematography and Audiovisual Arts (ICAA), the European Union-NextGenerationEU, EITB MEDIA S.A.U. (EITB), Zineuskadi and Europa Creativa Desk Media Euskadi, in association with Cannes Docs and the Scottish Documentary Institute.
This year the forum will be held as part of the 64th ZINEBI Festival from 14 to 18 November. Its scope has also been enlarged to include emerging projects from all over the State, thereby helping to boost the regional audiovisual fabric, and streamline the relationship between agents operating in the sector and local and international institutions working in the filmmaking and audiovisual industry.
This year, for the first time the Forum will have  two 10,000 euro cash prizes, both of which will be awarded at the Festival's closing ceremony on 18 November at the Arriaga Theatre. The ZINEBI Networking: Dokumentalen sorgunea award to the best entry in the Autonomous Community of the Basque Country, 10,000 euros, is backed by EITB. The best entry produced outside the Autonomous Community of the Basque Country will also receive 10,000 euros.
With  ZINEBI Networking: Dokumentalen sorgunea, ZINEBI maintains its commitment to support creative, independent documentaries; to construct spaces for creativity, reflection, consultancy and encouragement of film directors, and to propitiate the dynamics for encounters of creators, producers, institutions and other agents operating in the sector in support of film production and the international projection of new generations of businesses and professionals. The main objective is to facilitate relations between participants and the professionals and experts advising them on how to successfully carry out and produce their films.
The documentary feature film which won the last ZINEBI Networking: Dokumentalen sorgunea award was A los libros y a las mujeres canto, produced by Gipuzkoa company Txintxua Films and directed by Maria Elorza, originally from Vitoria but now living in Donostia, ZINEBI awardwinner in 2016 (Gure hormek, cod. Maider Fernández) and 2018 (Ancora lucciole). The resultant feature film will be premiered at the next San Sebastián Festival in the New Directors section.
The winner in 2020 was Bayo Bayo Baby, directed by Amaia Remírez and co-produced by Kanaki Films (Donostia), Caballo Films (Madrid) and Snowglobe Film Production Company (Copenhagen). The 2019 ZINEBI Networking: Dokumentalen Sorgunea award went to the feature film Bost minutu, directed by Amaia Nerekan (and produced by Marmoka Films), premiered at ZINEBI. In  2018 the winner was Meseta (Juan Palacios, 2018) produced by DOXA Producciones, a film which garnered a special mention by the jury panel at leading Danish documentary film festival CPH:DOX.