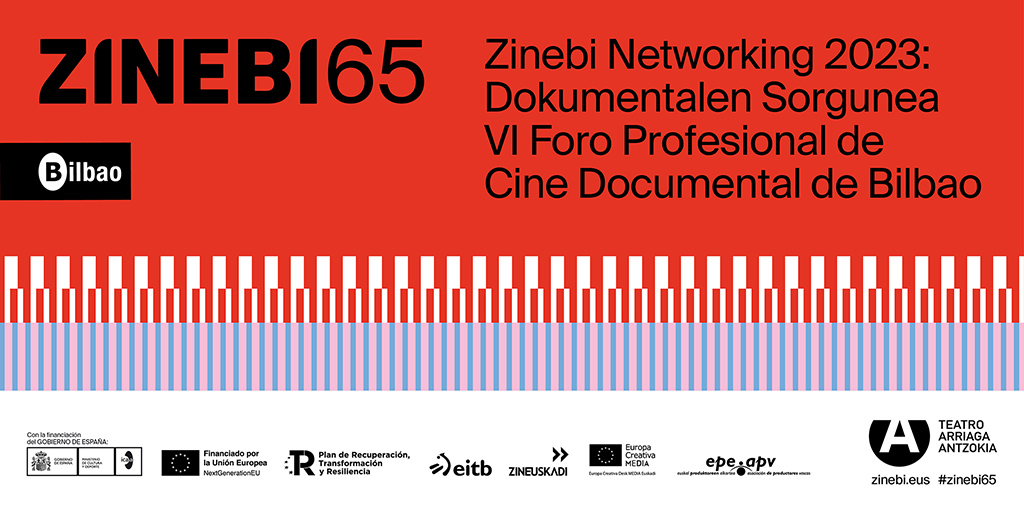 ZINEBI – International Festival of Documentary and Short Film of Bilbao – organised by Bilbao Town Hall – has now announced commencement of the 6th Bilbao Professional Documentary Film ZINEBI Networking: Dokumentalen sorgunea, to promote audiovisual production in the documentary sector. This year it will be held as part of the 65th ZINEBI Festival from 14 to 17 November. The forum is seeking projects to help boost the regional audiovisual fabric, and streamline the relationship between agents operating in the sector and local and international institutions working in the filmmaking and audiovisual industry.
The deadline for those wishing to present documentary feature film projects will be 15 September. Registration must be carried out via this link. A selection committee of professionals and experts, alongside ZINEBI management, will choose the projects to take part in the Forum, which must either have reached an advanced phase of development or already have production ongoing. The committee will appraise the idea, the aesthetic format, viability and production possibilities of each project.
The projects chosen will be given personalised tutoring sessions prior to the public presentation (which will have the backing of a professional operating in the sector) at a pitching session to the professionals who will form part of the international jury panel. Subsequently personal advisory meetings will be held between production companies and the participants.
Once more the Forum will have two cash prizes of 10,000 euros each: both of them will be awarded at the Festival's closing ceremony on 17 November at the Arriaga Theatre. The ZINEBI Networking: Dokumentalen sorgunea award to the best entry in the Autonomous Community of the Basque Country, 10,000 euros, is backed by EITB. The best entry produced outside the Autonomous Community of the Basque Country will also receive 10,000 euros.
With ZINEBI Networking: Dokumentalen sorgunea, ZINEBI maintains its commitment to support creative, independent documentaries; to construct spaces for creativity, reflection, consultancy and encouragement of film directors, and to propitiate the dynamics for encounters of creators, producers, institutions and other agents operating in the sector in support of film production and the international projection of new generations of businesses and professionals. The main objective is to facilitate relations between participants and the professionals and experts advising them on how to successfully carry out and produce their films.